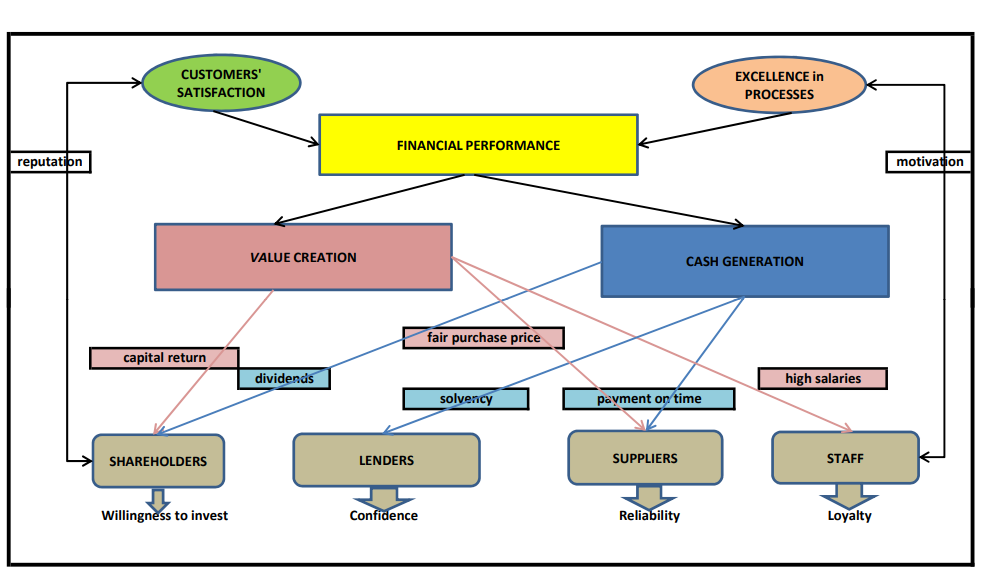 The rain does not water just vineyards as the financial performance does not reward just the shareholders

Usually, the financial performance means value creation for shareholders; but the financial performance has 2 legs: the value creation and the cash generation.
Value creation has money direct effects (better salaries for employees, fair purchase price for suppliers, solvency for bankers, dividends for shareholders ….) but also human side effects (motivation of employees, reputation of the company, confidence of the lenders ….)

The big advantage of the financial performance is TIQIF:

Can be used as a Target
Can be easily Identified
Can be Quantified with few indicators
Can be Improved by using specific drivers
Can be Forecasted
THE CAMPUS FINANCE TEAM
Thank you for your reading, your comments and the promotion of this post
DO YOU WANT THE FULL VERSION OF THIS POST ?
SEND A MAIL BELOW AND SELECT THE SUBJECT:
POST: ADDITIONAL EXPLANATION
DO YOU WANT TO PRACTICE:
SEND A MAIL BELOW AND SELECT THE SUBJECT:
POST: ENFORCEMENT EXERCISE